Title:
Man of Steel: A Risk Worth Taking
Author:
Babette
babettew54
Canon:
Superman (MOS)
Prompt:
#9
(Crystal Star, 2009)
Rating:
K+
Word Count:
2,300
Summary:
Lois couldn't decide whether to ask him out or bombard him with questions hopefully to secure the 'Story of the Century.'
Spoilers:
None. It's just speculation about the hand touching in the trailer and what it could mean for Clois.
Disclaimer:
DC Comics/Warner Bros. Entertainment owns these characters. This is strictly for my own amusement.
Author's Notes:
This story came to me after watching the MOS trailer a whole heck of a lot, but I managed to throw in some Christmas cheer. The LJ 12Days of Clois Christmas Challenge prompt I found (Crystal Star) fit perfectly. I hope you enjoy it guys. Please read and review. Thanks guys! :D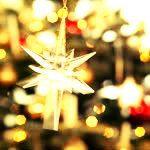 ~o~o~
(
Man of Steel: A Risk Worth Taking
Collapse
)
The story continues (
HERE
)
Current Mood:
flirty